Welcome!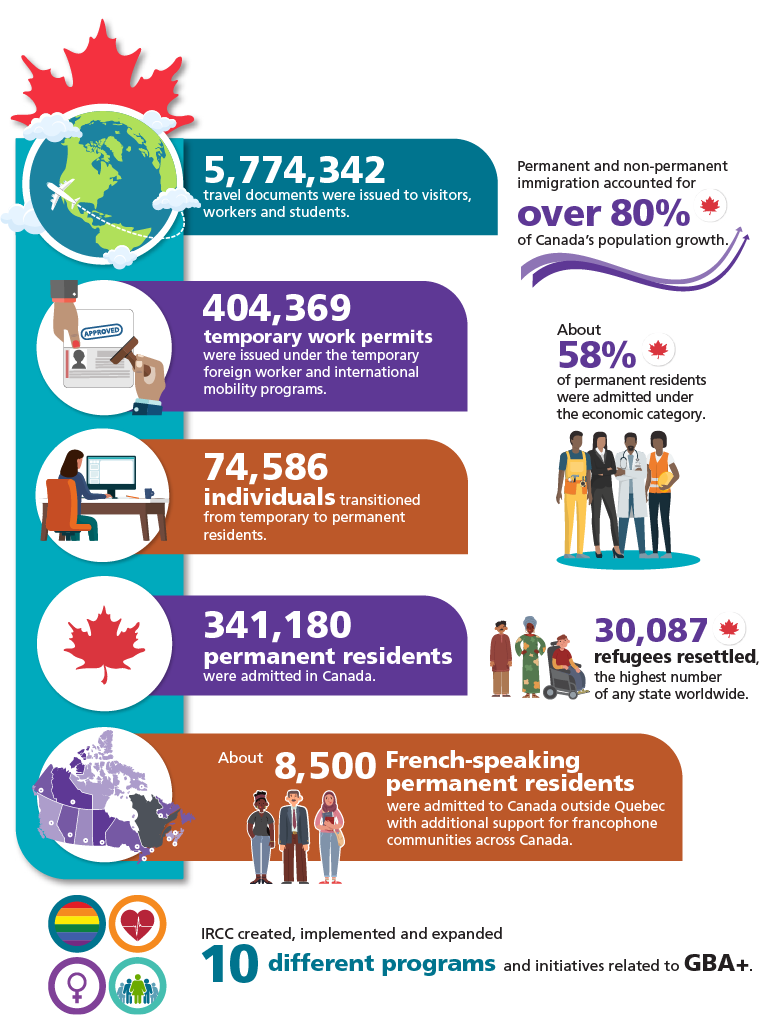 The United Nations General Assembly has declared December 18 as International Migrants Day. The theme for this year is "Harnessing the Potential of Human Mobility."
Who is a Migrant?
The UN Migration Agency (IOM) defines a migrant as any person who is moving or has moved across an international border or within a State away from his/her habitual place of residence, regardless of the person's legal status. This movement can be voluntary or involuntary. Some involuntary movements are due to poverty, lack of access to healthcare, education as well as the more "traditional" drivers of forced displacement such as persecution, conflict and human trafficking.
For some of the individuals who leave their country of residence, they eventually call Canada home. In its 2020 annual report on immigration, Canada welcomed over 341,000 permanent residents in 2019, including 30,000 resettled refugees; and issued over 402,000 study permits and 404,000 temporary work permits.
Moving to a new country comes with its challenges and every migrant has a pre-migration, migration, and post-migration story that may influence their settlement experience and integration in Canadian society. In addition, a migrant's immigration status will determine their access to services and they may face barriers while settling in their new country. Right now, the added stressors of the pandemic have had negative effects on some migrants.
According to Statistics Canada, "Past studies suggest that immigrants, generally, arrive in Canada with better self-perceived mental health than Canadians, but it declines after a period of time in Canada (Salami, 2017)…the higher proportion of recent immigrants reporting fair or poor mental health could be related to the pandemic."
As we celebrate the holidays and reflect on International Migrant Day 2021, let us consider how COVID-19 has affected migrants.
- For some, the holidays are not a joyous time; especially for those who have already suffered separation, trauma, grief, and loss. Due to limited in person contact and rise in COVID-19 cases, many may find it difficult to cope without in person contact and socialization.
- Due to language barriers and lack of access to technology, some migrant clients may face challenges when attempting to access services such as financial assistance and mental health supports. Many settlement agencies that once offered in-person services continue to operate virtually.
- As a child welfare sector, it is important that we consider these contextual factors - financial hardships, inadequate housing, isolation, trauma, racism or discrimination experiences, settlement challenges, and little or no access to health care – in terms of how they may affect a migrant's mental health, overall wellbeing, family dynamics, and parenting.
- In the Child Welfare Immigration Centre of Excellence (CWICE), we work with child welfare agencies across the province of Ontario. In our role, we support colleagues who work with children, youth, and families – we work to advocate for access to resources and services, and assist in regularizing clients' immigration status.
Moving into 2022, we need your help:
There is 'no one size fits all' approach to supporting children, youth and families who are receiving child welfare services and have intersecting unresolved immigration status, settlement needs, or border-related issues. Each family requires their own unique service plan.
We ask that you connect with CWICE so we can come together in unity to strengthen families, and provide permanency for children and youth.
We also invite you and your colleagues to join us for our CWICE training series in the New Year. For more information, please visit our Training page.
About the Author:
| | |
| --- | --- |
| | Celistine Frampton is a Child Protection Worker and Immigration Specialist at Peel Children's Aid Society in the Child Welfare Immigration Centre of Excellence. Celistine holds a diploma in Journalism and a Bachelors of Social Work Degree. She has a passion for writing, research, and advocacy work. |
References:
Infographic shown above is from ofA Snapshot of Immigration to Canada 2019 from the website 2020 Annual Report to Parliament on Immigration - Canada.ca
International Migrants Day | United Nations
OHCHR | Migration and Human Rights