Bordering Practices: Child Welfare, Systemic Racism, and Immigration Research
Mar 7, 2022, 13:48 PM
The Border(ing) Practices: Systemic Racism, Immigration and Child Welfare is a collaborative research project funded by the Social Sciences and Humanities Research Council (SSHRC). It is led by social work and child, youth and family researchers at the University of Toronto and University of Victoria. The initiative aims to explore how immigration status and systemic racism shape child welfare policies and practices, with a focus on immigrant families in Ontario and British Columbia. The Bordering Practices project engages in intersectional policy analysis and advocacy, working closely with community partners and advocates in the child welfare, immigration and gender-based violence sectors.
Its Research Advisory Committee (RAC) is comprised of service providers, community advocates and practitioners who have experiences in the child welfare system and its interactions with newcomers, refugees and people with unresolved status.
The Child Welfare Immigration Centre of Excellence (CWICE) was requested to participate on the advisory committee, sharing knowledge developed on the intersections of the child welfare and immigration systems. CWICE Managers Danielle Ungara and Liz Okai, along with Data & Research Coordinator Natalia Valencia represent CWICE on the advisory committee.
Moving into its second year, the Bordering Practices research team hosted a virtual community forum titled "Siloes and Silences: Shedding Light on Child Welfare and Immigration Status" on March 4, 2022. The forum was designed to facilitate dialogue and provide space for knowledge exchange, to explore issues arising at the intersections of precarious immigration status for racialized children, families and youth and the child welfare system. Through interactive workshops and a moderated panel, participants engaged with broader systemic issues impacting immigrant families who are involved in the child welfare system.
Learn more about the Bordering Practices research project.
About the Author: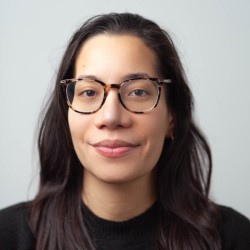 Natalia Valencia is the Research and Data Project Coordinator at the Ontario-wide Child Welfare Immigration Centre of Excellence at Peel CAS. She is committed to addressing complex social and policy issues through collaborative action, data-driven strategies and an intersectional, gender-informed lens.